Welcome to Equicizer's third Wooden Horse Wednesday blog! This week's blog is number three in our introduction to the "birth of the Equicizer"
.
If you haven't yet, make sure you read Parts One and Two of this series!
After relocating to Norwalk, Ohio, one would assume, with Lovato free to put everything he had into his Equicizer business, it would be smooth sailing onward. There were hiccups along the way, but when all was said and done, Lovato had a new shop to get to work in and the time to invest into making his business a success.
With social media really coming around, the internet became a wonderful tool for Lovato to use when promoting his wooden horses. Word of mouth had been the primary means prior – and still is an invaluable tool – but with everything now riding solely on the success of the Equicizer business, it all helped. With more time and opportunities to take his special invention to expo's and conferences, the horse world at large began becoming exposed to the Equicizer. Top clinicians across every discipline in America became aware of the benefits it offered and the amazing teaching tool it was. Therapeutic riding centers and individual households that had children and adults with disabilities, saw the potential the Equicizer brought to their programs and their homes.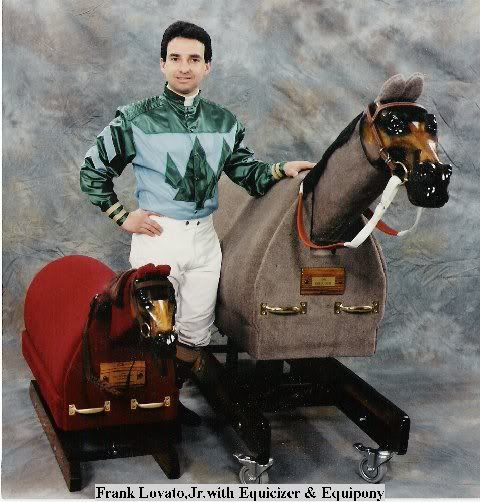 In an attempt to make their business bigger and better – and driven by the necessity of needing investors to take it to the next level – after much discussion and multiple meetings in person, the Lovato's sold their Equicizer business to another company in 2011, in the hopes that this company would be able to take them there. The new company hired the Lovato's as the manufacturers and took care of the business side themselves. For a short time everything seemed to be going well but things took a turn for the worse when the controlling company decided to try and outsource the Equicizer to China – and after failing – continued to take orders even after they had shut down production and laid the Lovato's off from their own company.
After more negotiations and struggle, Lovato finally bought his business back in the spring of 2014. With a lot of damage control to contend with, Lovato's fantastic reputation and dedication to his product was the main driving force to setting things right and getting the Equicizer back on track. Customers who had their money taken but orders never fulfilled by the previous company, got their money back with Lovato's help and replaced their order with him, finally receiving their beautiful wooden horses. On top of this, new orders began coming in again. Lovato was back in full swing and the untarnished brand of the Equicizer with him in the driver's seat, continues to inspire and change the lives of people around the

world.
Our customer base extends from the United States to 27 countries around the world, including places such as Canada, all over Europe, the United Arab Emirates, China, Australia, New Zealand, Korea, Japan and many places in between. The Equicizer has been used by riders for styles as varied as Dressage, Hunter/Jumper, Western Pleasure, Endurance, Vaulting, Polo, and Racing, and also for training by riding instructors, for film making and special effects, and in private homes. It has been used for weight loss, by rehabilitation centers, in therapeutic riding programs, for Hippotherapy, Massage Therapy, general exercise, and for just plain fun! Because they are all built by hand, by Frankie Lovato himself, the quality and craftsmanship of the Equicizer is top notch.
In the coming weeks, we will feature pictures illustrating some of the many steps required to build an Equicizer.