Welcome to Equicizer's first Wooden Horse Wednesday blog! In this week's blog post, we're going to take you on a bit of a time warp though the history of the Equicizer and how the idea was born. It's a fascinating journey and we're excited that you're joining us for the ride!
Thermostat at Arlington
In 1981 jockey
Frank Lovato, Jr.
was badly injured in a racing accident. After multiple surgeries, it became apparent that while rehab was a done deal, regaining full motion in his badly fractured left leg was, at best, questionable. According to Lovato's doctor, the question wasn't when Lovato would ride again, but if and how.
Born in Maryland and growing up mostly in New Jersey, the son of successful jockey Frank Lovato, Sr., the younger Lovato was determined to follow in his father's footsteps. Persistence paid off in Lovato's favor and he convinced his parents to let him move to Ocala, Florida at age 14 to work on a farm and pursue his riding dreams. By age 16 Lovato had worked his way up from the farm to the racetrack where he met his late wife, Sandy, at Hialeah Racecourse, and later that year he began riding races, putting in a stellar year as top apprentice rider during 1980 in Ohio, Louisiana, New York and New Jersey.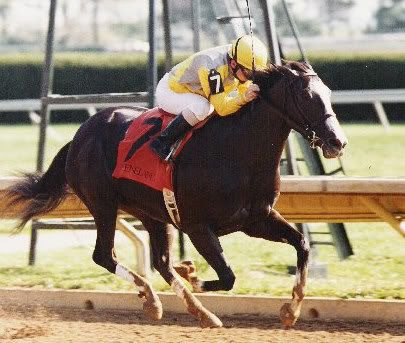 Keeneland
Fast forward to the end of October, 1981. Lovato was scheduled to ride a filly in race 7 at the Meadowlands Racetrack in New Jersey. With his mount's reputation preceding her, Lovato got a leg up and proceeded to the post parade among the other horses and riders. Suddenly, out of nowhere, his filly froze – a term signifying when a horse stops abruptly and won't move, often out of fear and usually resulting in a subsequent explosion from the horse once it does move.
Peat Moss
The pony rider leading Lovato pulled sharply on the lead attempting to get the filly to move as Lovato shouted at her to stop, but it was too late.

Feeling the pressure of the lead tugging against her, the filly snapped out of her trance and just as quickly as she had stopped, she jerked backwards and flipped on top of Lovato, who had taken his feet out of the stirrups to try and relax her, preventing him from pushing off of her and resulting in the bulk of 1100lbs to come crashing down directly on top of him. In
the blink of an eye, a lifetime of hard work and dreams were temporarily but devastatingly plowed to a grinding halt.
This is the first chapter in the creation of the Equicizer. While not a welcome turn of events at the time, it's not always the cards we're dealt but how we deal with them that determine the turn the future will take and, in Lovato's case, he was able to turn a bad situation into something that would be a positive light in his life and many others. Check back next week as we continue with Wooden Horse Wednesday's second blog "The Birth of the Equicizer – Part 2".
By Kayla Jarvinen