When
the Equicizer was created
, it was because jockey Frankie Lovato, Jr had been faced with a physical therapy room that offered very little in the way of helping him return to peak performance condition. Many riders who have been injured can relate to asking not
if
they will return, but
how soon
? While many other wonderful uses for it have come to light, we are proud to say the Equicizer is still widely used for its original purpose of therapy and rehabilitation! Over the last 25 years, it has become an integral part of many Equine Assisted Therapy Activities/Therapies (EAAT), therapeutic riding, and hippotherapy centers worldwide.
Horses Healing Humans, Inc
The Equicizer is a fun and alternative way to facilitate therapeutic exercises for children and adults and has helped improve the lives of those with physical, mental, and emotional challenges. It has proven to be beneficial for individuals with conditions and challenges such as arthritis, cerebral palsy, emotional/learning disabilities, paralysis, amputation, Down Syndrome, fibromyalgia, multiple sclerosis, spinal cord injury, autism, educational and training disabilities, head trauma, muscular dystrophy, and for those recovering from strokes.
Borrowed Freedom EAAT
As a therapeutic tool, the Equicizer can be used in private homes, therapy centers, recreation facilities, and therapeutic riding programs. The Equicizer has a warm and lifelike appearance but is built with sturdy construction to be reliable and stand up to daily use. It is not uncommon for children who are scared by the movements, smell, or height of horses to find a comfort zone with the Equicizer and sometimes even go on to ride 'real' horses as a result of the bond they develop with the mechanical horse. We have also heard of great emotional benefits the Equicizer can provide for those with emotional delays or disabilities. Kids will pet, groom, and love on the Equicizer just like they do with the rest of the barn animals.
KidspOT Occupational Therapy Services
One of the primary benefits of using an Equicizer in a therapeutic riding program is that it allows for exercises beyond the scope of 'normal' horseback riding. Riders can stretch, strengthen, and balance in
different poses
while riding the horse but not having to steer or fear the horse reacting to stimuli. Riders can ride backwards, sideways, double, or lean forward and back without affecting the horse at all. They have the opportunity to create the motion of the ride on their own or a handler can stand beside the rider and generate the motion for them. Many therapeutic riding students feel a great sense of pride and accomplishment when they are able to graduate from the former to the latter. Similarly, gradually being able to work the Equicizer up into a canter and sustaining that gait provides a great sense of personal triumph.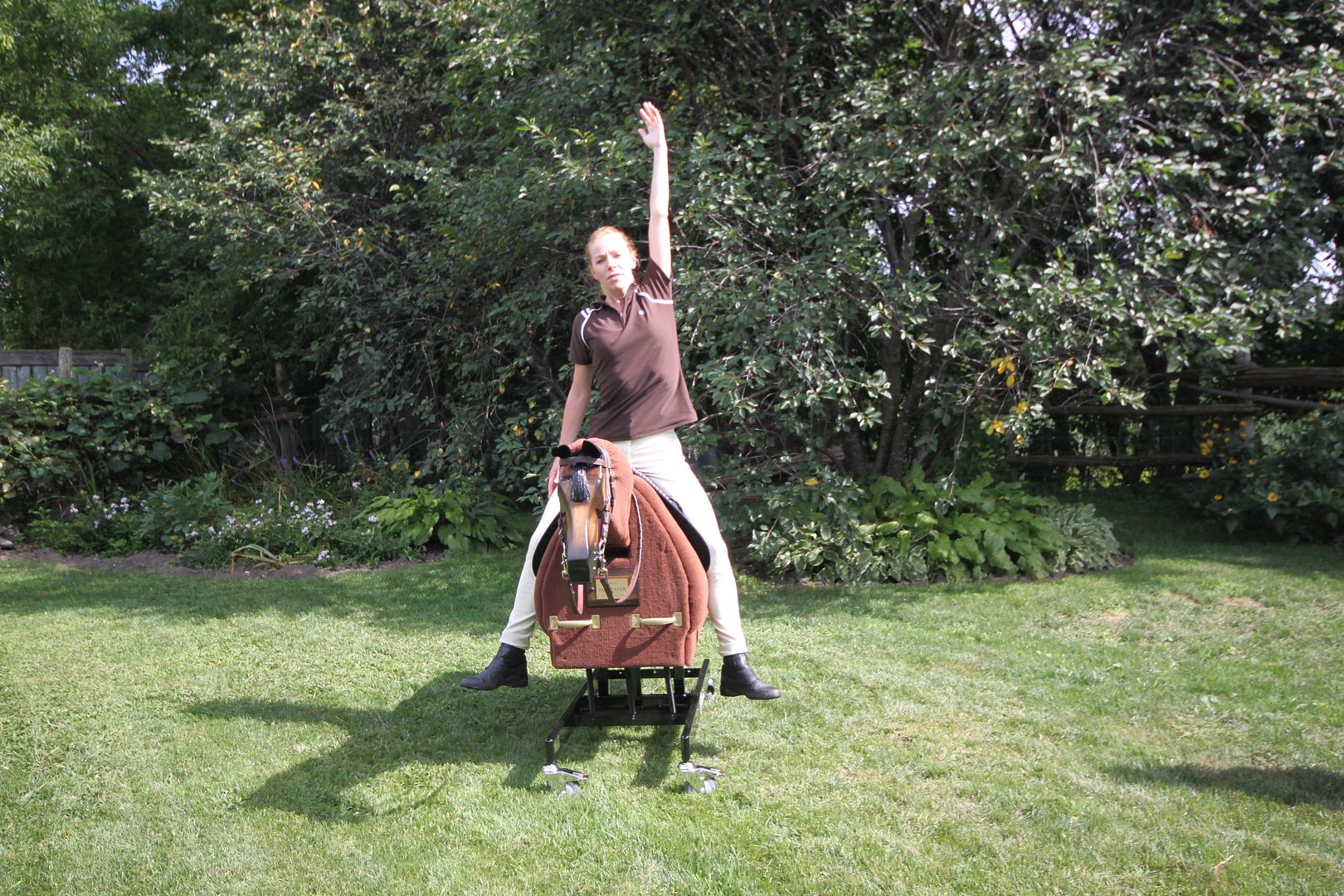 Side Stretch
A very popular use for the Equicizer in therapeutic riding programs is for evaluation and teaching purposes. It is a safe and controlled way to introduce students to something like the mounting process. They can practice getting on and off as many times as it takes to make them comfortable with the action without any unnecessary strain on a horse's back. The Equicizer is also a good training tool to use with handlers, walkers, and therapists as they learn the appropriate way to assist people of different skill levels during a riding session or lesson. It can allow time for handlers and/or walkers to become familiar with a rider and the rider with them.
Heather Sansom
The Equicizer is equal parts a fun and advantageous addition to any therapy, hippotherapy, and/or EAAT program. It can also be used in the home to supplement Please check out the
reference guide
on our website as well as
the wealth of ideas
for stretches and exercises to do with the Equicizer (developed by fitness expert, Heather Sansom). Also,
PATH International
is a great starting point if you are looking for accredited therapeutic riding centers in your area.
www.equicizer.com
By Amanda Chicotel